Show Results
Champion International d'Exposition (CIE)
Champion International de Beauté (CIB)
German Champion (VDH)
German Champion (DRC)
Dutch Champion
Swedish Show Champion
Danish Show Champion
Bundessieger 2012
VDH-Frühjahrssieger 2017
Dutch Junior Champion
German Junior Champion (VDH)
VDH-Europajugendsieger 2012
BIS Tollerfestival 2014
Crufts 2017 - 1st place Special Working class
Place
Date
Judge
Class
Result
Dortmund
19-05-2019
Veteran
Dortmund
17-05-2019
Veteran
Zwolle
07-04-2019
Mrs T. Pillement-Heijden
Veteran
Crufts Birmingham(UK)
07-03-2019
Mrs E Whitehill
Veteran
Groningen
02-03-2019
Belkıs, Ozan (TR)
Veteran
Groningen
01-03-2019
Stigt, Hans (NL)
Veteran
Bremen-Stuhr
09-07-2017
Mw. G. Halff-v. Boven
Working
1 Excellent
DRC CAC
Dortmund (Dld)
20-05-2017
Bruno Facq (F)
Working
1 Excellent
CAC, CACIB,
Best Male,
Best of Breed Frühjahrssieger '17
Dortmund (Dld)
19-05-2017
Verena Neuburger (CH)
Working
1 Excellent
CAC & Reserve CACIB
Crufts 2017,
Birmingham (UK)
11-03-2017
Mr. Jeff Luscott
Special Working
1st place
Nieuwegein (KCM)
11-09-2016
Ms. Lene Johansen (DK)
Working
1 Excellent
Reserve Best Male
BOB Working class
Res. CAC (vol punt)
Askersund (SE)
13-08-2016
Mr. Mähönen Markku (FI)
Working
1 Excellent
CK, CAC, CACIB, Best Male, Swedish Champion
Tollerspecialen, Forsfik (SE)
07-08-2016
Ms. Theres Johansson
Working
Excellent
HP, 5th place (28 entrees)
Bremen (Dld)
30-07-2016
Ms. C. Lohmann
Working
3 Excellent
Groningen
01-03-2015
Dhr. L. Hearn (AUS)
Working
1 Excellent
Best Workingdog
Skummeslövs-strand (SE)
03-08-2014
Mrs. Lisa Molin
Working
Excellent
HP, 5th place
Papendal
15-06-2014
Mrs. T. Illukka (FI)
Working
1 Excellent
Reserve Best Male
RCAC Dutch Champion
Bergen op Zoom
31-05-2014
Mr Jeff Luscott (EN)
Working
1 Excellent
Best Male, Best of Breed
(95 entrees)

Undløse (DK)

27-04-2014
Dhr. F. Lange (DK)
Kamp.
2 Excellent
3rd Best Male
Reserve CAC
Utrecht
05-04-2014
Dhr. G. Christensen (DK)
Working
1 Excellent
Reserve Best Male
Res. CAC/CACIB
Groningen
02-03-2014
Mevr H. Warendorf (NL)
Working
1 Excellent
Reserve Best Male
Res. CAC/CACIB
Cuijck
21-12-2013
Mevr. R. Leenen
Working
1 Excellent
Reserve Best Male
Res. CAC/CACIB
Maastricht
29-09-2013
Mr. M. Lepasaar (EST)
Working
1 Excellent
Reserve Best Male
Res. CAC/CACIB
Maastricht
28-09-2013
Dhr. A. Korósz (HU)
Working
1 Excellent
Reserve Best Male
Res. CAC/CACIB
Krefeld (Dld)
15-09-2013
Mevr. Z. Petik (HU)
Working
1 Excellent
VDH CAC
Reserve Best Male
German Champion
Höör, Skåne(SE)
04-08-2013
Mr. J. Herngern
Working
1 Excellent
BIS Working class k(44 entrees)
3e Best Male in show (150 males entered)
Stuhr (Dld)
07-07-2013

Dhr. A. Stepinski (PL)

Working
2 Excellent
Arnhem
19-05-2013
Mevr. D. Mensink (NL)
Open
1 Excellent
Groningen
02-03-2013
Dhr. Z. Kis (HU)
Open
1 Excellent
Reserve CACIB
Leuven (België)
28-10-2012
Mevr. V. Boesmans (BE)
Intermediate
1 Excellent
Best Male, BOS
CAC + CACIB
Dortmund (Dld)
13-10-2012
Dhr. H. Grüttner (D)
Intermediate
1 Excellent
VDH CAC
Best Male, BOB
Dortmund (Dld)
12-10-2012
Mevr. S. Radtke (D)
Intermediate
1 Excellent
VDH CAC + CAC DRC + CACIB
Best Male, BOS
Bunderssieger 2012
Crufts Kwalification
Krefeld (Dld)
08-09-2012
Mevr. D. Getzinger (A)
Intermediate
1 Excellent
Anw Dt Ch. VDH CAC
Timmerlage (Dld)
08-07-2012
Mr. B. Sörensen (N)
Junior
1 Excellent
Anw Dt. Jug. Ch VDH
+ Jugend CAC DRC
Best Male, BOB
German Youth Champion
Bennekom
03-06-2012
Mr. E.K. Pedersen (DK)
Junior
1 Excellent
Junior CAC
Arnhem
27-05-2012
Mevr H. Warendorf (NL)
Junior
1 Excellent
Junior-CAC, CAC
Best Male BOS, Dutch Junior Champion
Dortmund (Dld)
13-05-2012
Mevr. B. Ting (D)
Junior
1 Excellent
Anw Dt. Jug. Ch VDH
+ Jugend CAC DRC
Europajugendsieger
Crufts Kwalification
Lingen (Dld)
29-04-2012
Mevr. S. Radtke (D)
Junior
1 Excellent
Anw Dt. Jug. Ch VDH
Bester Junghund
Leeuwarden
09-04-2012
Mevr L. Delvaux-Crauwels
Junior
2 Excellent
Groningen
03-03-2012
Dhr. A. Korósz (HU)
Junior
1 Excellent
Junior CAC
Eindhoven
04-02-2012
Mw. R. van Reyniers (BE)
Junior
1 Excellent
Junior CAC + Res.CAC
Reserve Best Male
Wijchen
12-12-2011
Mevr. C. Eelman (NL)
Junior
2 Excellent
Groningen
13-11-2011
Mw. G. Halff-v. Boven
Puppy
1 Very Promising
1th place Junior Handling by Kyra (9 years old)
Zwolle
02-10-2011
Mrs. B. Müller (ZW)
Puppy
1 Very Promising
Best Puppy of the Breed
Assen
03-09-2011
Mevr. D. Mensink (NL)
Puppy
2 Very Promising
Bergen op Zoom
02-06-2011
Ms. C. Widdowson (EN)
Baby
1 Very Promising
Best Baby of the Breed
Judge reports:

Bremen-Stuhr, 09-07-2017
Nice type of good size, masculin report, nice eyes, good colour, well placed ears, good pigment, just enough lenght of neck, good shoulder placement, excellent bone, length + feet, strong body, well angulated behind, good tailset, moves well, good coat texture

Dortmund, 20-05-2017
Lovely boy, lovely musculine head, super topline and tailset, very good front angulation, excellent back angulation with straight hocks, excellent bone and correct feet, excellent ribcage well developed with a good depth, excellent mover, very well presented with a very good coat and condition

Dortmund, 19-05-2017
Typischer Toller mit viel Ring präsenz, kräftige aber nicht dicke Statur, korrekte overlinie, Rute korrekt angesetzt und ach in der Bewegung korrekt getragen, kräftige Brust, zum Typ pasende Knochen, korrekte Winkelungen, gute Bemuskelung, ein typischer Vertreter seiner Rasse

Crufts, 11-03-2017
Quality dog with lots of plus points, I liked his type in strength of body, in his action with a good working tail, he attracts in head & went with purpose on the move

Kampioensclubmatch van de NSDTRCN in Nieuwegein, 11-09-2016
Very nice type, good size, short coupled masculine head, good expression, good neck, good depth of chest, strong topline, good tailset, well angulated, good bone, stand in four square, very sound mover
Reserve Beste Male & BOB Working class

Askersund, 13-08-2016
Excellent type with good lines, nice head. Well set ears. Good neck. Very solid body. Well set tail. Very good angulations, correct feet, very good mover, nice color but 'old' color. Champion today!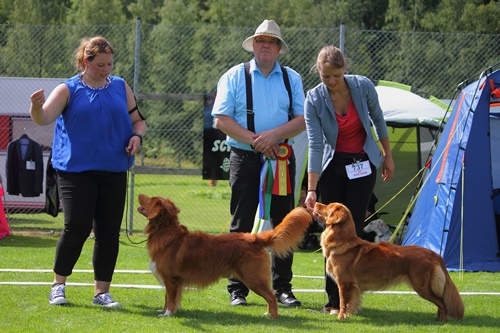 McKai left, Best Male, Swedisch Champion


Forsvik, Tollerspecialen 2016, 07-08-2016
Masculine, correct head, bite, earset. Strong back, well angulated. Good substance. Moves easy, soundly. A little bit open coat. Good pigment. Correct tailset. Lovely temper

Bremen, 30 July 2016
5 years old, maskulin geprägter Rüde, korrekt geschnittener kopf mit typischen Ausdruck, harmonische Winkelungen, vorzügliches Haarkleid, bewegt sich mit viel schub und entsprechendem vortritt, freundliches verhalten

Groningen, 1 maart 2015
4 years old, very good type, in good condition, head balance correct, clear expression, animated dog, strong forquarters, ferm topline, strong hindquarters, good drive in moving

Papendal, 15 June 2014
Excellemt type and sie. Good head, short in neck, good topline, well angulated, moves well with correct tail carriage.

Bergen op Zoom, 31 mei 2014
Excellent type, balance and outline. Lovely head, good soft mounth. Well fulled chest, Strong muzzled quarters. Well carried Tail. Great on the move.
Beste Reu, Beste hond van het Festival!

Hieronder foto's gemaakt door Angelique Verhulst (Vereniging vd NSDTR)


| | |
| --- | --- |
| | |
| Best Male | Best in Show, Tollerfestival |

Undløse(DK), 27 April 2014
Excellent type, correct bite, Good head and expression, well set ears, good neck and topline, well set tail and tail carriage, good chest deapth and lenght, good angulations front and rear, prefer more bone, excellent movement but be carefull not running to fast. RCAC

Utrecht, 5 april 2014
3 years old. good size, masc. head + expression. Could have more fill out under the eyes. Scissor bite. Good size of teeth. High well set ears. Good neck and topline. Well set tail. Good body. Well angulated, moves well, good coat, nice temperament. Excellent res CAC/ res CACIB

Groningen, 2 maart 2014
3 jaar, mooie typische reu, mooi gevormd hoofd, goed opgevuld onder de ogen met een typische toller expressie. Lichaam mooi in balans door evenredige hoeking. Prima bovenbelijning + staart aanzet. Goed bone. Voorvoetjes kunnen iets compacter. Prima vacht + kleur. Gaat gemakkelijk en vloeiend door de ring. 1 Uitmuntend Res CAC, Res CACIB

Cuijck, 21 December 2013
2 jr harmonieus gebouwde compacte reu met een rastypische en intelligente uitdrukking in het hoofd. Goed geplaatst oor en oog en volledig scharend gebit. Prima hoekingen voor- en achterhand. Prima staart en staart dracht. Prima voeten. Rastypisch vlot en krachtig gangwerk. Vrolijke staart dracht. 1U, RCAC, RCACIB

Maastricht, 28 September 2013
2 years old. Correct size and type. Little bit light eyes, correct bite. Level Topline. Correct tailset. Needs just a little more forchest. Good angulation. Correct movement and enough breed temperament. Res. CAC/CACIB

Maastricht, 29 September 2013
Sehr gute Type und grosse. Korr. kopf, etwas lange fange. Front hals und schultern nicht ganz gut bemuskelt. schone gerade Ruckenlinien. Gerade Bewegung. Res. CAC/CACIB

Krefeld (Dld), 15-09-2013,
Gute Größe, gute Aufsicht, gute parallele Front, Typ. Winkel, Gute Burst, Sehr gutes Temperament, etwas lose Ellebogen, Typ Bewegungen, vorne etwas eng.
Hij behaalde zijn 5de CAC en werd daarmee Duits Kampioen.

Höör, Backag

å

rden (SE), 04-08-2013, Gebruikshondenklasse
Excellent type, excellent mover, nice head and expression, good angulations in front and rare, good forchest, good colour, coat not the best today, good reach of step, strong mover in good balance.
BIS Gebruikshondenklasse (23 reuen - 21 teven ingeschreven)
3e Beste Reu in show (150 reuen ingeschreven)


| | | |
| --- | --- | --- |
| | | |
| BIS Working class | | 3rd Best Male in show |


DRC Ausstellung Stuhr, 7-07-2013
Good size, compact body, needs a little more substance, good topline, but neck should be more flowing to the shoulders, very good angulations both ends, well shaped head, good expression, too big ears, movement from the side is his stongest point.

Pinkstershow Arnhem, 19-05-2013
Leuke jonge reu, mannelijk hoofd, prima wigvorm, corr.oog, oor en gebit. Prima bovenbelijning + staartaanzet, evenredig gehoekt. Mooi gewelfde ribben die nog iets dieper mogen worden. Corr. vacht + bevedering. Passend bone. Gaat vlot met voldoende stuwing, achter wat nauw. Leuk temperament. 1 Uitmuntend

Martinidogshow Groningen, 02-03-2013
2 years old boy, excellent quality, beautifull head, good reach of neck, very nice topline, balanced angulation, excellent movement. Exellent 1e Res. CACIB

Nat. Show Dortmund, 13-10-2012
Typvoll aufgebauter Rüde, elegante obere Linie, sehr guter Rutensitz, sehr gute Winkelungen, vorzüglich in Haar und Farbe, raumgreifendes Gangwerk.

Bundessieger Dortmund, 12-10-2012
Toller jungw. Rüde, typ. Kopf, harmonische Gesamterscheinung, tiefe Brust, korrekte winkelungen, flüssige Bewegung, perfekt prasentiert.

Krefeld, 08-09-2012, Tussen
18 monate, vorz. typ, korr. Kopflinie, korr. Gebi

ß, korr. eingesetzte Augen, vorz. Hals-Rückenlinie, korr. obere-iuntere Linie, korr. Winkelungen, Vorderpfoten im Stand leicht ausgedreht, flüssiges Gangwerk, Vorderpfoten jedoch leight einddrehend.



Timmerlage, 08-07-2012, Jeugd
Lovely Head + Expression, good neck, excellent body, bone and feet, CAC mover, lovely temperament, well presented.
Hij behaalde hiermee zijn derde VDH Jeugd CAC en is hiermee Duits Jeugd Kampioen VDH geworden.

Bennekom, 03-06-2012, Jeugd
Nice typical head, good neck + topline, normal angulations, Nice bone + body, Good chest, Nice coat, White a little high on leg, Moves very well. 1 Excellent

Arnhem, 27-05-2012, Jeugd
15 maand, reu van goede maat, verhoudingen en type, goed gevormd hoofd, juiste wigvorming, prima oog, oor en gebit, pientere uitdrukking, evenredige hoekingen, al goed ontwikkeld lichaam, sterke lendenen voor leeftijd, prima staartaanzet en staart,passend bone, goede voetjes, prima gangwerk voor leeftijd, goede staartdracht tijdens 't gaan, beharing moet nog wat doorzetten. Prima Ring gedrag. 1 Uitmuntend CAC
Hij behaalde hiermee zijn derde Jeugd CAC en is hiermee nu Nederlands Jeugd Kampioen!

Dortmund (Dld), 15-05-2012, Jeugd
14 monate alter rüde, von vorzüglichen typ, anatomisch korrekt aufgebaut und gut proportioniert , sehr schöne rasse typische Kopf, vorzügliche Rückenlinie, bewegt sich sehr gut, korrekt Fellanlage

Lingen (Dld), 29-04-2012, Jeugd
Junger

Alters gemässigt entwickelte Rüde, guter Kopf, kräftiger Hals, etwas steil im Oberarm und Knie, kräftiger Rücken, korrekte Bewegung, sehr gekonnt präsentiert.



In de erering waarbij de beste jeugdhond van rasgroep 8 werd bepaald, eindigde McKai bij de laatste 5 honden!

Leeuwarden, 09-04-2012, Jeugd
13 maanden, heup van goede grootte, typisch hoofd, goede uitdrukking, zeer goed gehoekt, correcte kleur, staart correct gedragen, vlot gangwerk

Groningen, 03-03-2012, Jeugd
Junge rüde mit genugende gro

ß

e. Corr. kopftype mit sehr schöne trockene augen. Mittelgro

ß

e ohren.
Ganz gerade und feste rückenlinie. Sehr gute winkelungen. Sehr gute homegene haare.
1 Uitmuntend. Jeugd CAC

Eindhoven, 04-02-2012, Jeugd
11 maanden oude reu. Correct gebit, Goede verhouding in lichaam met goede borst diepte voor leeftijd.
Goed gehoekt achterhand. Tikkeltje zwak in de pols. Uitmuntend croupe en staart aanzet.
Van terzijde gezien is de beweging voor + achter harmonisch. Goede staartdracht.
1 Uitmuntend. Res. CAC.

Wijchen, 12-12-2011, Jeugd
9 maand oude toller reu met mannelijk hoofd. Goed gebit en oor. Oog is (nog) te licht. Voldoende krachtige hals. Rug mocht nog iets steviger worden. Goede hoekingen voor en achter. Voldoende krachtige gangwerk.

Clubmatch Groningen, 13-11-2011, Puppy
8 maand, rastypisch met goede verhoudingen. In aanleg goed reuenhoofd. Goed geplaatst en gedragen behang. Corr. pigment. Moet voorsnuit nog opvullen vooral onder de ogen. Goede halslengte + al typische kraag. Prima schouderligging. Opperarm kon beter. Mist nog wat voorborst. Passend bone. Middenvoet + voet kon krachtiger. Moet zich in rug nog verbeteren. Prima hoekingen voor en achter. Gaat voor leeftijd al vlot door de ring. Prima temperament. Goede vacht structuur. Veelbelovend.

Kyra van der Molen (9 jaar oud) heeft met McKai nog meegedaan aan Junior Handling. Ze kenden elkaar niet maar deden het beide super goed samen. Ze behaalden dan ook een 1ste plaats! We zijn trots op dit mooie resultaat van Kyra en McKai! (Foto's hieronder)

Zwolle, 02-10-2011, Puppy
7 Monate alter Rüde, typischer Kopf und Ausdruck, gute halslänge, schon sehr gute Tiefe, freie bewegung, sehr gute Rutenhaltung, fröhliches wesen

Kampioensclubmatch NSDTRC Assen, 03-09-2011, Puppy
6 maanden, mannelijk wigvormig hoofd, prima oog, oor en gebit, mooie aangesloten lippen, krachtige nek, bovenbelijning loopt nog iets op, prima staartaanzet, evenredig gehoekt, prima ribben, prima bone met gesloten voeten die voor wat ronder zouden kunnen en iets teveel wit tonen, gaat vlot met temperament door de ring.

Tollerfestival Bergen op Zoom, 02-06-2011, Baby
Very promissing, lovely bone, nice hair. moves nice for one so young